RRDMA Statistics



Northwestern Ontario is divided into three districts, which include Kenora, Rainy River and Thunder Bay District. Northwestern and each of its
regions and communities are all beautiful, with different cultures, ideals, and priorities,however, they all work together to
develop and make Northwestern Ontario a great place to live, work, and visit.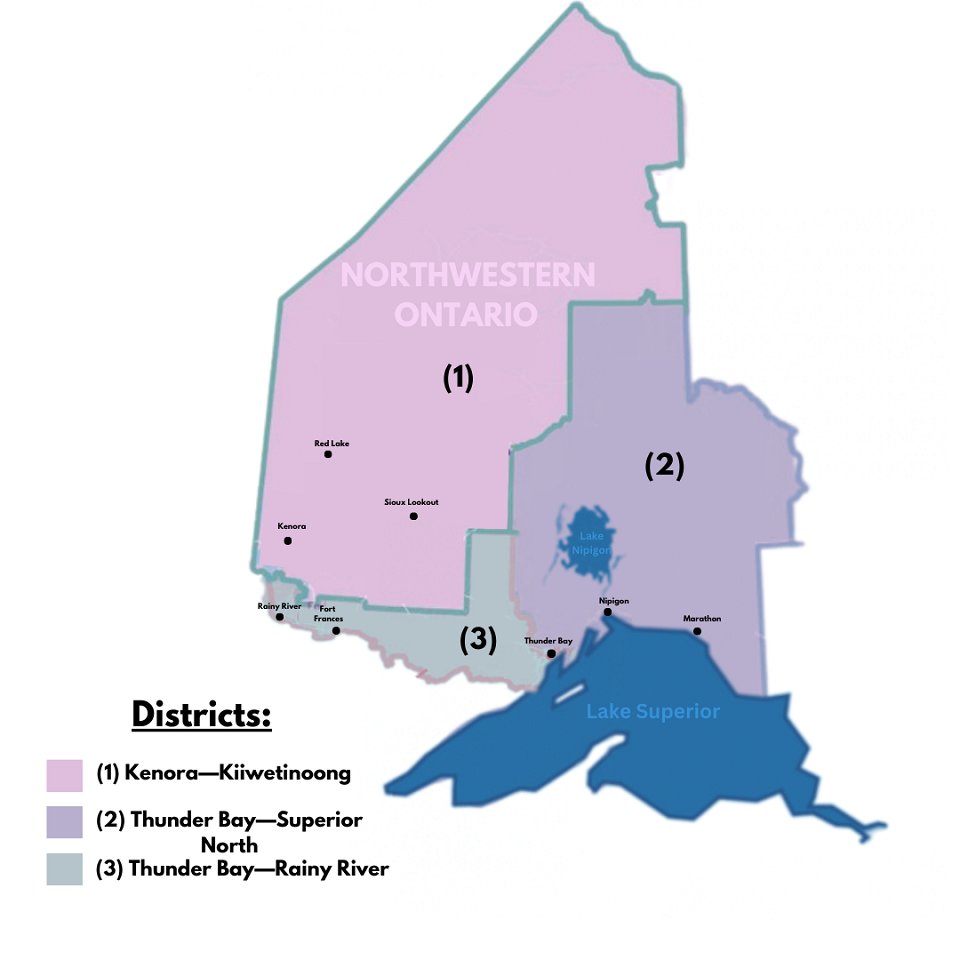 Rainy River District:
The Rainy River District is formed of 15,486.75 km2, with a population density of 1.3 population/km2. It was founded in 1885 and is well-known for being close to the US border 8. It is renowned for its great fishing opportunities, further, the largest communities located in the district are Fort Frances and Atikokan. They are investing to improve their economic growth and create more jobs for those within the communities and for newcomers living within their area.
The municipalities within the district are:



1. Township of Alberton
Population (2016): 969
Population (2021): 954
Population Percentage change, 2016 to 2021: -1.5 %
Population Density per square kilometre: 8.2 population/Km²
Land area: 116.60 Km²
2. Town of Atikokan


Population (2016): 2,753
Population (2021): 2,642
Population Percentage change, 2016 to 2021: -4.0 %
Population Density per square kilometre: 8.4 population/Km²
Land area: 313.64 Km²
3. Township of Chapple
Population (2016): 643
Population (2021): 763
Population Percentage change, 2016 to 2021: 18.7 %
Population Density per square kilometre: 1.4 population/Km²
Land area: 558.15 Km²


4. Township of Dawson
Population (2016): 468
Population (2021): 399
Population Percentage change, 2016 to 2021: -14.7 %
Population Density per square kilometre: 1.2 population/Km²
Land area: 343.42 Km²
5. Township of
Emo
Population (2016): 1,333
Population (2021): 1,204
Population Percentage change, 2016 to 2021: -9.7 %
Population Density per square kilometre: 6.0 population/Km²
Land area: 202.28 Km²
6. Town of Fort Frances
Population (2016): 7,466
Population (2021): 7,739
Population Percentage change, 2016 to 2021: -3.5 %
Population Density per square kilometre: 292.2 population/Km²
Land area: 25.55 Km²
7. Township of La Vallee
Population (2016): 938
Population (2021): 788
Population Percentage change, 2016 to 2021: - 16 %
Population Density per square kilometre: 3.3 population/Km²
Land area: 237.12 Km²


8. Township of Lake of the Woods
Population (2016): 230
Population (2021): 308
Population Percentage change, 2016 to 2021: 33.9 %
Population Density per square kilometre: 0.4 population/Km²
Land area: 746.24 Km²
9. Township of Morley
Population (2016): 481
Population (2021): 493
Population Percentage change, 2016 to 2021: 2.5 %
Population Density per square kilometre: 1.3 population/Km²
Land area: 388.38 Km²
10. Town of Rainy River
Population (2016): 807
Population (2021): 725
Population Percentage change, 2016 to 2021: -6.8 %
Population Density per square kilometre: 241.4 population/Km²
Land area: 3.12 Km²