TBDML Statistics
Northwestern Ontario is divided into three districts, which include Kenora, Rainy River and Thunder Bay District. Northwestern and each of its regions and communities are all beautiful, with different cultures, ideals, and priorities, however, they all work together to develop and make Northwestern Ontario a great place to live, work, and visit.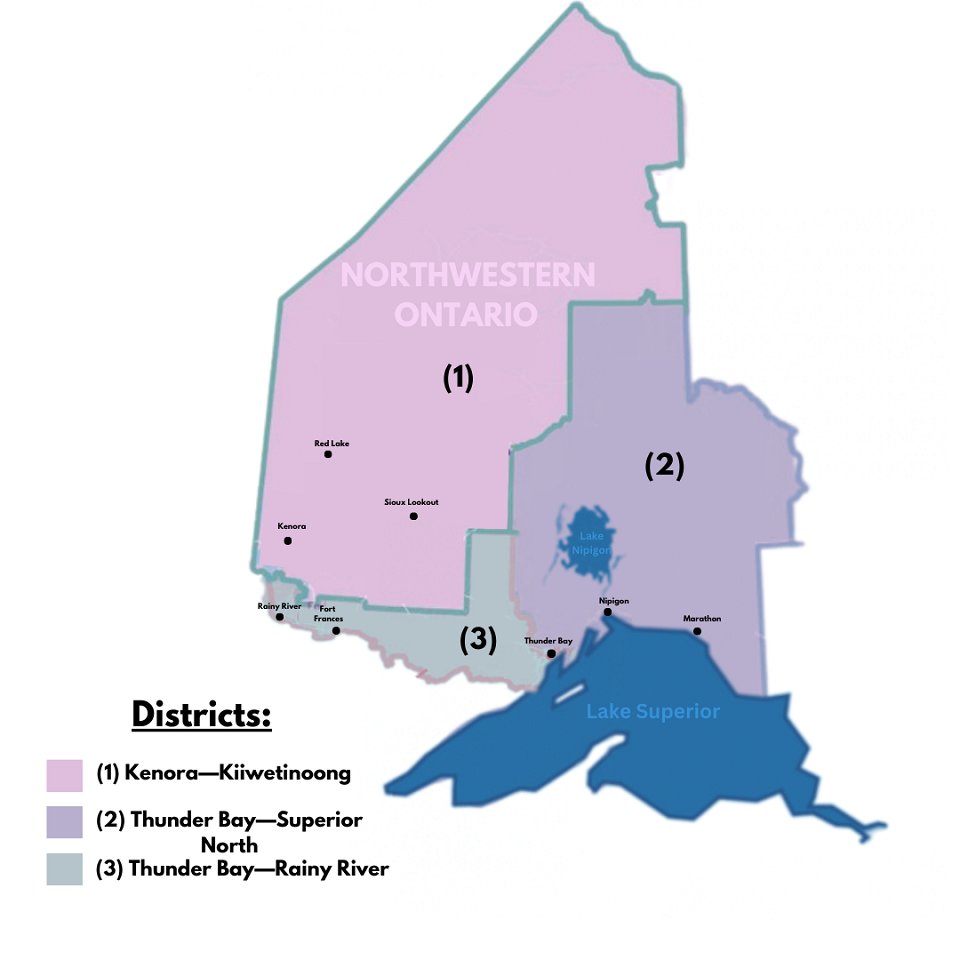 Thunder Bay District:
The Thunder Bay District is 103,719.51 km2 and has a population density of 1.4 population/km2. It was founded in 1871 and its largest communities include Thunder Bay, Oliver Paipoonge and Greenstone 9. The main economic drives for the district include manufacturing, mining, forestry, and tourism.
The municipalities within the district are:
1. Township of Conmee
Population (2016): 819
Population (2021): 798
Population Percentage change, 2016 to 2021: -2.6 %
Population Density per square kilometre: 4.8 population/Km²
Land area: 167.65 Km²
2. Township of Dorion


Population (2016): 316
Population (2021): 375
Population Percentage change, 2016 to 2021: 18.7 %
Population Density per square kilometre: 1.8 population/Km²
Land area: 211.25 Km²
3. Town of Hearst (Northeastern Ontario)
Population (2016): 5,070
Population (2021): 4,794
Population Percentage change, 2016 to 2021: -5.4 %
Population Density per square kilometre: 48.9 population/Km²
Land area: 98.06 Km²
4. Township of Hornepayne (Northeastern Ontario)
Population (2016): 980
Population (2021): 968
Population Percentage change, 2016 to 2021: -1.2 %
Population Density per square kilometre: 4.8 population/Km²
Land area: 203.04 Km²
5. Township of Gillies


Population (2016): 474
Population (2021): 441
Population Percentage change, 2016 to 2021: -7.0 %
Population Density per square kilometre: 4.8 population/Km²
Land area: 92.68 Km²
6. Municipality of Greenstone


Population (2016): 4,636
Population (2021): 4,309
Population Percentage change, 2016 to 2021: -7.2 %
Population Density per square kilometre: 1.6 population/Km²
Land area: 2,727.04 Km²


7. Township of Manitouwadge
Population (2016): 1,937
Population (2021): 1,974
Population Percentage change, 2016 to 2021: 1.4 %
Population Density per square kilometre: 5.6 population/Km²
Land area: 325.17 Km²
8. Town of Marathon
Population (2016): 3,273
Population (2021): 3,138
Population Percentage change, 2016 to 2021: -4.1 %
Population Density per square kilometre: 18.8 population/Km²
Land area: 167.03 Km²


9. Municipality of Neebing


Population (2016): 2,055
Population (2021): 2,241
Population Percentage change, 2016 to 2021: 9.1 %
Population Density per square kilometre: 2.6 population/Km²
Land area: 873.78 Km²
10. Township of Nipigon


Population (2016): 1,642
Population (2021): 1,473
Population Percentage change, 2016 to 2021: -10.3 %
Population Density per square kilometre: 13.6 population/Km²
Land area: 107.94 Km²
11. Township of O'Connor
Population (2016): 663
Population (2021): 689
Population Percentage change, 2016 to 2021: 3.9 %
Population Density per square kilometre: 6.3 population/Km²
Land area: 108.56 Km²
12. Municipality of Oliver Paipoonge


Population (2016): 5,922
Population (2021): 6,035
Population Percentage change, 2016 to 2021: 1.4%
Population Density per square kilometre: 17.2 population/Km²
Land area: 305.51 Km²
13. Township of Red Rock


Population (2016): 895
Population (2021): 895
Population Percentage change, 2016 to 2021: 0.0 %
Population Density per square kilometre: 14.4 population/Km²
Land area: 62.10 Km²
14. Township of Schreiber


Population (2016): 1,059
Population (2021): 1,039
Population Percentage change, 2016 to 2021: -1.9 %
Population Density per square kilometre: 29.0 population/Km²
Land area: 35.81 Km²
15. Municipality of Shuniah


Population (2016): 2,798
Population (2021): 3,247
Population Percentage change, 2016 to 2021: 16.0 %
Population Density per square kilometre: 5.7 population/Km²
Land area: 571.34 Km²
16. Township of Terrace Bay
Population (2016): 1,611
Population (2021): 1,528
Population Percentage change, 2016 to 2021: -5.2 %
Population Density per square kilometre: 10.1 population/Km²
Land area: 151.51 Km²
17. City of Thunder Bay


Population (2016): 107,909
Population (2021): 108,843
Population Percentage change, 2016 to 2021:0.9 %
Population Density per square kilometre: 332.1 population/Km²
Land area: 327.77 Km²
18. Township of White River
Population (2016): 645
Population (2021): 557
Population Percentage change, 2016 to 2021: -13.6 %
Population Density per square kilometre: 5.8 population/Km²
Land area: 95.55 Km²